Welcome to Triebold Implement
---
The Midwest's Premier Implement Dealer Since 1966
Triebold Implement, family-owned and operated since 1966, serves Farmers and Homesteaders with the best products and services available in the industry. From Haybines to Balers, from Feed Mixers to Manure Spreaders, and from Tractors to Tillage Tools, Triebold Implement sells and services equipment that you will be proud to call your own.
SKID STEER LOADERS SV340
With a 3,400 lb ROC the CASE Tier 4 Final SV340 skid steer loader is a productivity beast. With a higher-rated operating capacity than the Deere 332E, stronger breakout force and our superior high-flow auxiliary system, the SV340 runs heavy attachments with better handling, supplies better loading capacity and delivers greater overall performance.
Productivity
The SV340 features increased hydraulic performance thanks to increased High Flow system pressure to 3,450 psi, a stronger lift arm, H-link, and upper chassis. The CASE exclusive 4,000 psi Enhanced High-Flow (EHF) auxiliary hydraulic system is also available.
Fuel Efficiency
The SV340 employs a powerful SCR Tier 4 Final solution. Because SCR is an after-treatment system, it lets the engine breathe easier and run at peak performance, which translates to maximum power, lower operating temperatures and greater fuel efficiency.
---
Comfort and Visibility
Visibility and comfort remain exceptional with a sealed, 25% larger cab and thin wire side-screen design as well as a large, rounded rear window that provides an expansive glass surface area and a 360° view. Superior stability can be had even in the roughest of terrains with our Ride Control™ feature while nighttime visibility is enhanced with our exclusive side lighting.
Serviceability
When you buy a CASE, you want it to last. We make it easy. That's why on our skid steer loaders, routine service points are all located at the rear of the machine, so you can quickly access the engine, filters, fill points and whatever you need to properly maintain and extend the life of the machine.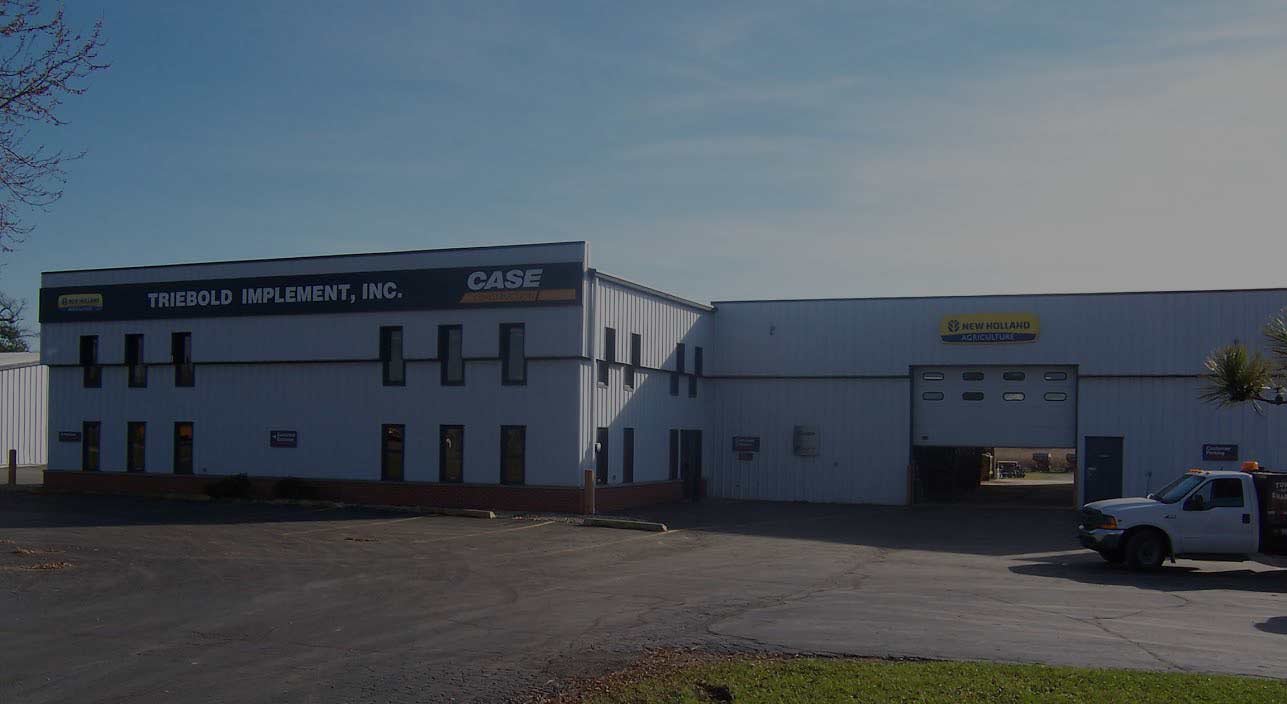 Experience the Triebold Difference
---
1
Over 51 Years in Business
For the last 51 years Triebold Implement in Whitewater Wis. has been the Midwests leader in quality implement sales and service.
2
Fully Stocked Parts Center
With over 75 years of combined experience, Triebold Implement's parts staff will provide the parts you need. We stock original equipment parts for Case and New Holland brands, as well as Kuhn Knight, Kuhn Krause, Gehl, and many others. We also stock aftermarket parts for all brands, plus a variety of farm accessories and shop supplies. Triebold Implement has what you need to keep your equipment running as good as new! Call or stop in during out store hours and talk to one of our experienced employees, or use our 24-hour on call service for break down part assistance.
3
Expert Level Service Technicians
Triebold Implement has an outstanding service department! From tractors to skidloaders, backhoes to forklifts, combines to sprayers, forage harvesters to tillage equipment, if you can pull it, drag it, or drive it, we can fix it! We have a fully staffed shop and seven hard working team members. Triebold Implement provides pick–up and delivery for all equipment. With certified technicians, a precision farming specialist, fabrication and welding experience, a fully updated computer system, and 24-hour on call assistance, our service department has the experience and expertise to get you back to work with as little hassle as possible.
4
24/7 Parts and Service Availability
24/7 Parts and Service Availability is available; please contact Triebold Implement for details. Additional Charges will apply for these services.