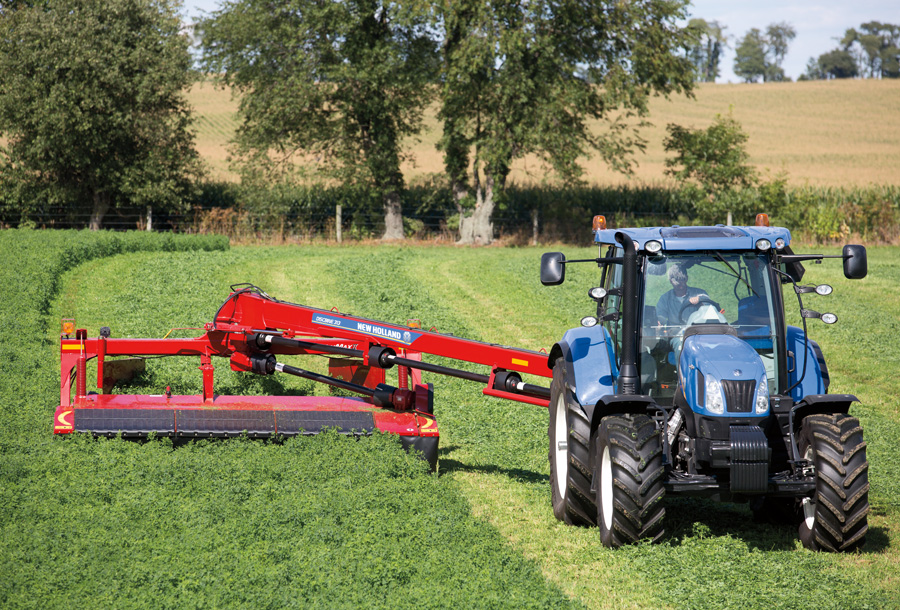 THE DEFINITION OF DISC MOWER-CONDITIONERS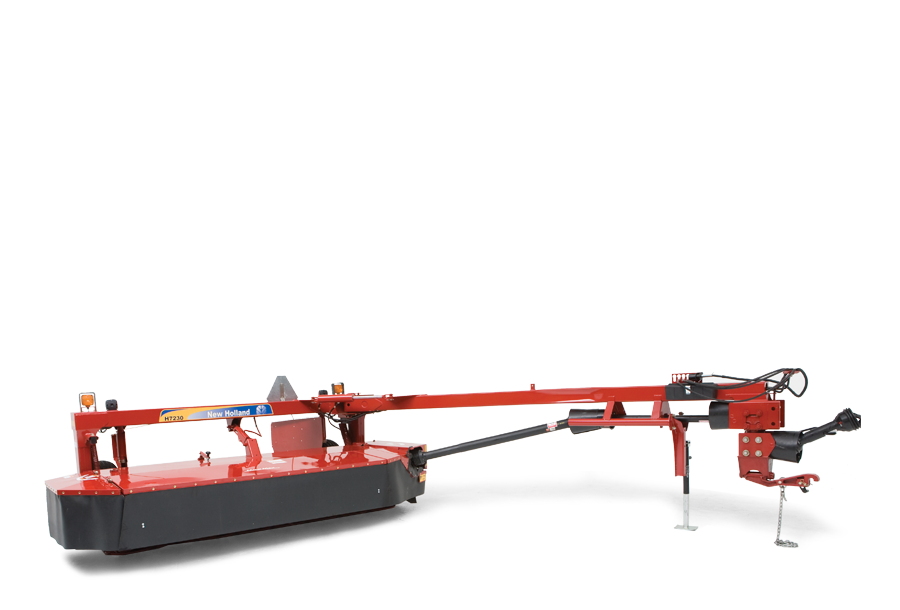 Discbine® Disc Mower-Conditioners
THE DEFINITION OF DISC MOWER-CONDITIONERS Even in tough conditions, a genuine Discbine disc mower-conditioner swiftly turns heavy crop into fast-drying windrows or swaths. An extensive model lineup provides you with numerous reliable choices. From the economical seven-disc models with a modest, nine-foot cut up to the highly productive 10-disc models that quickly knock down sixteen-foot with every pass, there's a model that's suitable for your acreage and operation.
DISCBINE® DISC MOWER-CONDITIONERS

Discbine 313

Discbine 316

H7220

H7320

H7230

H7330

DISCBINE® DISC MOWER-CONDITIONERS Discbine 313 I Discbine 316 I H7220 I H7320 I H7230 I H7330 Series Download
A cut above the rest: MOWMAX™ and MOWMAX™ II Cutterbars H7000 Series models cutting up to 10' 4" feature the proven reliability and performance of the classic MowMax disc cutterbar. For the greatest capacity, Discbine® Series 313 and 316 center-pivot models feature the MowMax II disc cutterbar, a cutterbar designed for the higher demands of large harvesting operations. It incorporates the large discs and heavy-duty components also found on Durabine™ disc heads for New Holland Speedrower® self-propelled windrowers.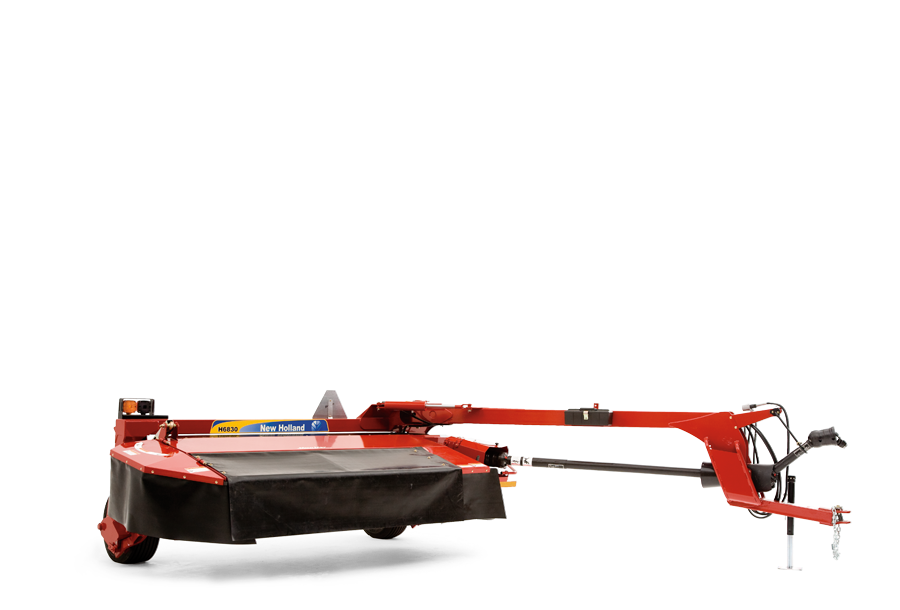 Heavy-Duty Disc Mowers
TROUBLE-FREE CUTTING AND PEACE OF MIND New Holland H6000 Series heavy-duty disc mowers breeze through the toughest conditions to give you a clean, even cut in less time. Discs spin up to 3,000 rpm, producing a knife tip speed of up to 187 mph to slice through dense, wet grasses, fire ant hills and gopher mounds. Select from four heavy-duty models, including a pull-type model with a cut width of over 10 feet.
HEAVY-DUTY AND ECONOMY DISC MOWERS

H6730

H6740

H6750

H6830

HM234

HM235

HM236

 HEAVY-DUTY AND ECONOMY DISC MOWERS H6730 I H6740 I H6750 I H6830 I HM234 I HM235 I HM236 Series Download
MOWMAX™ CUTTERBAR ADVANTAGES: CLEANER CUTTING, MORE DURABILITY, LESS DOWNTIME, EASIER SERVICING All four heavy-duty disc mower models feature the latest advance in New Holland true modular cutterbar technology—the MowMax cutterbar equipped with the ShockPRO™ cutterbar protection system. This is the same design used on larger Discbine® disc mower-conditioners so you are assured of maximum durability and peace of mind. Each disc module is an individually sealed gear case with a dedicated oil reservoir. Even when cutting on slopes, there's never an oil starvation issue. The gears stay fully lubricated and work reliably. If an internal component ever fails, there's no chance that a broken piece can circulate in the oil bath and damage other modules. And, each gear case is connected with independent, hardened alloy drive shafts, not a single-piece drive shaft that can twist or shear. When routine maintenance is required, it's fast and inexpensive.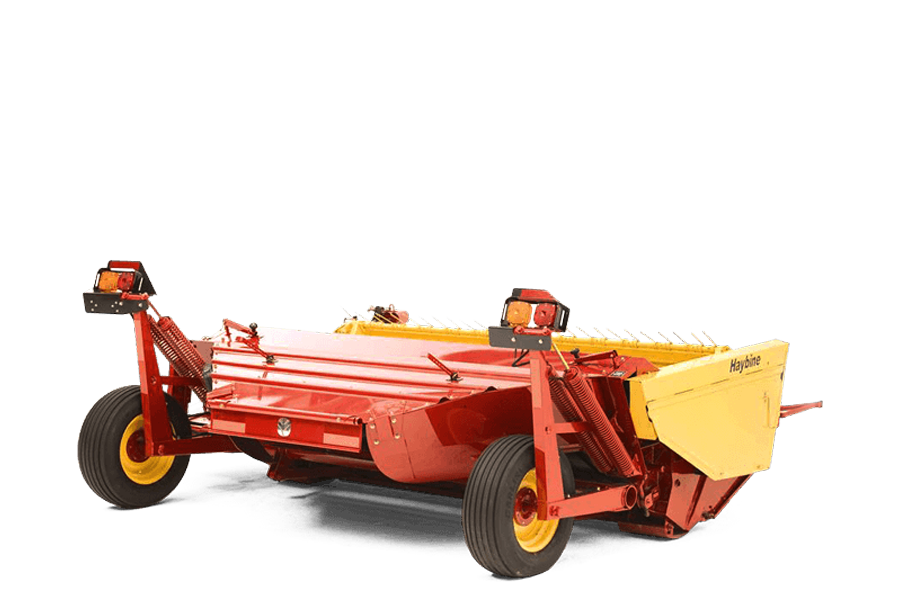 Haybine® Mower-Conditioners
THE INDUSTRIES FIRST AND STILL THE BEST Since 1964 when New Holland introduced the first combined sickle mower and conditioner, the Haybine® name has been synonymous with time-saving, impeccable cutting performance, fast drying, and time-tested reliability. New Holland continues this legacy with Haybine model 472 and 488 side-pull mower-conditioners and H7150 center-pivot, trail frame for HS Series 14-, 16-, and 18-foot mower-conditioner heads.
HAYBINE® MOWER-CONDITIONERS

472

488

HAYBINE® MOWER-CONDITIONERS 472 I 488 Series Download
Smart Cutting Features Define a Genuine Haybine® Every Haybine model has the same core features for top-of-the-line field performance and hay quality. Twice-hardened guards and over-serrated knives cut easily through tall and tangled crops. Full, lateral and radial header flotation assures close, even cutting for impeccable cut quality. Additionally, New Holland's famous chevron roll conditioning system provides thorough and uniform conditioning for fast drying. The Chevron-design rubber rolls uniformly crimp stems while protecting delicate leaves for ideal conditioning. The plug-free torsion bar roll-pressure system helps you maintain speed by completely releasing roll pressure if necessary, to pass any crop slugs for non-stop mowing. The torsion bar roll-pressure system creates a near-constant pressure no matter how thick or thin the crop mat. No tools are needed for adjustment of both roller pressure and swath gate. The hand crank adjusts conditioning pressure best suited for the crop conditions. For additional conditioning control, adjust roll gap setting in order to determine the aggressiveness of the conditioning, for optimal performance. Use the lever for the swath gate to go between a full swath and a narrow windrow. Combined, these features give you the Haybine mower-conditioner advantage you need and benefits you want.